Sometimes your system may show an error that there is a Linux boot disk with a Windows 7 password. There can be many reasons for this problem.
Don't suffer from Windows errors anymore.
Step 1: Download and install ASR Pro
Step 2: Run a scan to find and fix errors
Step 3: Reboot your computer for the changes to take effect
Fix your slow PC now with this easy and free download.
When the Windows 7 login screen appears, select "Administrator" and enter each of our "123456" passwords to proceed.
If you (or someone you know) have forgotten your Windows password, you might find it helpful to learn about chntpw, a useful Linux utility that also allows you to generate a Windows -Can reset code. As a guide, I created a specific virtualWindows machine and set the password for the smoking account Archit-PC to pass123. I also made a Live USB with Fedora 27 using some kind of Fedora Media Writer application.
Here are my steps with screenshots to help you quickly and very easily reset the best Windows password with
chntpw1. Connect the Live USB to your computer and restart your computer to display the login screen as shown below:
2. Boot from Live and click "Try Fedora:
via USB".3. Exit live-user and root of Wood. This step is optional, but I prefer to use the specific user root to resolve matching issues:
4. Install the chntpw utility using the following command (this requires an Internet connection):
sudo for dnf lag -y chntpw
5. Check which partition you want to mount with sfdisk -l …:
mount sudo /dev/sda2 /mnt/Microsoft/
cd /mnt/Microsoft/Windows/System32/config/
How do I reset my chntpw password on Windows 7?
sudo chntpw -u SAM Administrator Type 1st and press Enter. After removing the user account password, enter m to save the changes. Reboot your system and connect the Ubuntu Live media drive. Then you can record without A under Windows!
Also check the new user against the Security Account Manager (SAM) database entries:
sudo chntpw -i SAM
And enter the passwordmy user account (i.e. in archit-pc in this example) for my username:
7. Type 1 to clear this user password, or 2 to set a new password for user Archit-PC, then exit and save changes . type:
8. Restart Windows. If most people chose 1 above, you'll probably see that no password is required to log in. Just click Login and you are ready to login: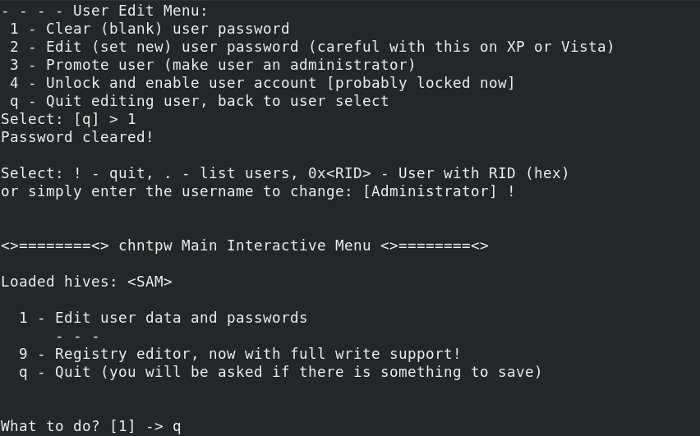 Everything is on the way! Hope this helps if you ever need to reset your Windows password.